October 20, 2022 – Hampton, N.H. – Insurance industry professionals from across the country gathered in Boston for the SIAA (Strategic Insurance Agency Alliance) semi-annual business meeting. Held at the Marriott Copley Place in Boston, MA from October fourth through sixth, this was SIAA's 49th such national business meeting.
The three-day event provided the opportunity for participants from SIAA, SIAA's 48 regional master agencies and executives from the top insurance companies to collaborate through workshops and presentations specific to the opportunities and changes in the independent agency distribution channel.
"These business meetings provide a forum for SIAA, its master agencies, and strategic partner companies to discuss the current state of the industry and to partner in the evolution of independent agencies and the independent agency distribution channel while meeting the changing needs of the insurance buying consumer," said Matt Masiello, SIAA Chief Executive Officer. "It also provides an opportunity to share the ideas, successes and challenges affecting the independent agent of today and bring that knowledge to the members across the country to manage and grow their agencies in a rapidly changing environment."
Also held during the business meeting was SIAA's cornerstone fundraising gala, A Pink Evening in Boston, with guests dressed in pink to honor Breast Cancer Awareness Month. The night's speaker, award-winning television host Kristen Berset Harris, shared her personal story of battling breast cancer not once, but twice. Currently in remission, she was diagnosed for the first time when she was 27 and again just eight years later.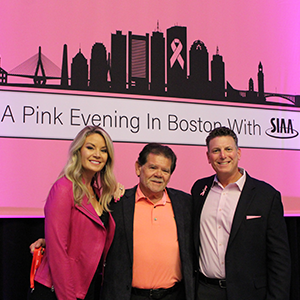 The evening raised nearly $60,000 for Dana-Farber Cancer Institute and the Jimmy Fund, including SIAA's $10,000 match for any contributions given during the three-day semi-annual business meeting. Dana-Farber Cancer Institute in Boston, MA is committed to providing adults and children with cancer with the best treatment available today while developing tomorrow's cures through cutting-edge research.
About SIAA
SIAA (Strategic Insurance Agency Alliance) is a national alliance of independent insurance agency members generating hundreds of millions in new premium business annually. SIAA is dedicated to the creation, retention, growth, and evolution of the independent insurance agency distribution system.