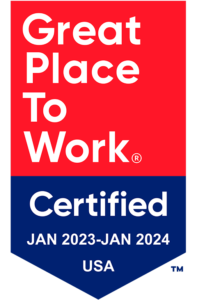 SIAA has been certified as a Great Place To Work®, a recognition of the outstanding employee experience at our company. We care deeply about the culture at SIAA, and give high priority to our team members and their work experience. Learn more below about the people, culture and benefits here at SIAA.
People
SIAA is comprised of a diverse and talented team of professionals dedicated to the success of our member agencies and the evolution of our organization. We encourage each individual to have intellectual curiosity and a continuous improvement mindset; we empower people to be innovative and welcome diverse perspectives to help us achieve our goals; and our growth provides opportunities for team members to learn and grow.
Our focus is on continuously building and bettering the culture of SIAA by listening to our team members about their needs and aspirations. It's integral to our culture of inclusivity, balance, and positivity for every team member, ensuring that as we grow, they do too!
Benefits
Health, dental & vision insurance
Short & long term disability
401k with company match up to 4% of salary
Generous vacation time that increases annually on your anniversary
Paid holidays & volunteer days
Education & Professional Development funding
Flexible work arrangements
Casual dress
On-site yoga classes in our Hampton office
If you're ready to take the next step in your career as part of an organization that cares about your success, as well as the success of our member agencies and strategic partners, we invite you to connect with us on LinkedIn or reach out to us at [email protected]